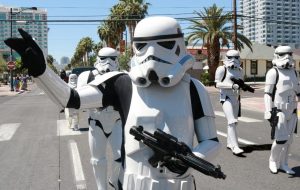 Hello random stranger who happened upon our page! We are the Neon City Garrison and are quite pleased that you have discovered our website. We do hope that you have taken a few minutes to look at the home page and the about us section.
If you are looking to have a Stormtrooper or two come to your event, then please make your way to the request an appearance button.
Over the next few months and probably years, as we attempt to make this website awesome, we will be updating you with exciting news and content within these blogging walls. No, we won't win a Pulitzer prize for literature, to be honest I'll be surprised if anyone even reads this, so please be patient for terrible spelling errors, dull little tit-bits of Garrison gossip and the worst jokes known to man!
So until then, thanks for your patience, and forever in the service of the Emperor,
TK-78231
P.R. Officer